DIY Hub: Frequently Asked Questions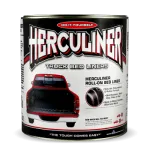 Roll-On Bed Liner
Frequently Asked Questions
Can I Paint Herculiner Original Roll-On?

Herculiner can be painted though, it is best to use a polyurethane based paint to coat the surface with. Colored polyurethanes may be a little harder to find, but because they are like material and have the same pliability, you will get the longest lasting coverage with it. The usage of polyurethane paint is recommended because other types of paint will not have the same pliability and will be more apt to crack and peel off at a much quicker rate. You can use any other paint if you'd like, except for lacquer, but it may not hold up as long as the polyurethane.


If you can, the best time to apply the paint is within 24 hours of the Herculiner becoming dry to the touch. It will be in it's most receptive state for paint at that time. So after you apply the final coat of Herculiner, give it the recommended one to four hour time frame to set or wait until the surface isn't tacky anymore, then put the paint on. If you go a prolonged amount of time between applying the product and painting, we usually recommend lightly sanding and cleaning the surface of the Herculiner before applying.


What you don't want to do is mix anything into the Herculiner before applying it, even if it is a urethane product. There is a specific amount of plasticizer for curing that is in the product that will be affected if anything additional is added and there is the chance that the tint would not be compatible with the polyurethane we use in our product. Even mixing one Herculiner color with another can cause curing issues because certain colors use different types of polyurethane as well.

Can I Use Herculiner Original Roll-On for other applications besides truck beds?

Yes, Herculiner can be applied to virtually any surface including wood, metal, concrete, asphalt, rubber, fiberglass, and most plastics, including PVC, and even painted or primed steel and aluminum.

What necessary items are not included in the kit?

One quart of Xylene, Acetone or MEK (solution to prep the surface of the bed before coating)
Rubber gloves
Stir stick (we recommend a drill with a paint mixing attachment)
Paint tray and some rags
Tape for masking off areas
What is included in the kit?

1 gallon can
2 rollers
1 roller handle
1 - 2" brush for tight spots/corners
Application instructions
Can I apply Herculiner Original Roll-On in the winter?

Yes, Herculiner can be applied between 32° F and 95° F. However, the colder the temperature and the lower the humidity, the longer the curing process will take. Additionally, it MUST BE APPLIED IN A WELL VENTILATED AREA.

Can you repair a section that has been damaged?

Yes, Herculiner adheres to itself.

How many coats should I use?

Always use two coats. The first coat will form a good base. Then allow one to four hours to dry and apply a second coat to completely seal and bring out the shine. When applying the second coat, it is recommended to spread in the opposite direction to ensure complete coverage. *Note:One (1) gallon covers 6' beds with 2 coats. An extra quart is needed for 8' beds.

What happens if I get Herculiner Roll-On on my hands?

Use Xylene immediately to remove the product from your hands. Then wash hands with soap and water.

How can I remove Herculiner Original Roll-On once it's applied?

Herculiner is a permanent application. However, if the product is still wet, it can be removed using Xylene.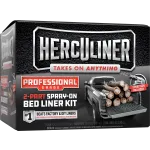 Professional Grade

Frequently Asked Questions
What if the spray gun appears to be clogged or won't spray?

Try the following trouble-shooting options:

Slightly unscrew the gun from the bottle (like a quarter or half turn, but do not detach) and try again.
Check your PSI rating on your air compressor to make sure it is in range.

Make sure there is no air leaking from your gun/hose connections.

Cover the air intake hole with your finger on the gun and shake the bottle to mix and try again.

Remove the gun from bottle, shoot acetone through the gun to clean it out. Then re-attach to bottle and try again.

How do I properly mix the material?

Turn the resin bottle upside down and shake for about 30 seconds to loosen the texture inside the bottle.
Measure 6.5 fl oz of hardener using the included measuring cup.

Pour the hardener into the resin bottle, using the included stick to scrape the sides of the measuring cup.

Re-cap the resin bottle, turn upside down and shake vigorously for 1-2 minutes.

Your mixed bottle is now ready for application.

What is the difference between Herculiner Professional Grade and Herculiner Original Roll-On?

While Herculiner Original Roll-On has been providing dependable bed liner protection for many years, Herculiner Professional Grade has durability that even outperforms professionally installed bed liners, has improved fade resistance, and can be sprayed or rolled-on without any adjustment to product viscosity.

What is the temperature range for application?

Between 65-90 degrees Fahrenheit; anything outside of this will affect cure time greatly

What is the coverage?

Around 20 sq ft per bottle

Do I need to apply primer to bare metal?

No, as long as the surface has been cleaned and scuffed.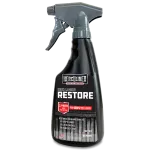 Bed Liner Restore
Frequently Asked Questions
How do I apply to keep it from puddling or streaking?

Either spray into a cloth and wipe (recommended for vertical surfaces) or spray directly onto material and use a cloth to even the application.

Why did this not work on my trim?

Plastic trim that has a clear coat on it, or that has been permanently damaged by wear, will not be affected by Bed Liner Restore

How do I get the nozzle to spray a mist instead of a stream?

Open the nozzle only slightly (half-turn) to get it spray mist. Anything more will turn into a stream spray. Bed Liner Restore is best applied with a mist spray.

My nozzle clogged, what do I do?

Remove the nozzle and clean it out with water, and use a small sharp object to clear out any dried material at the nozzle opening.

Can I use this on interior trim?

Bed Liner Restore is designed for use on exterior trim only, not interior.