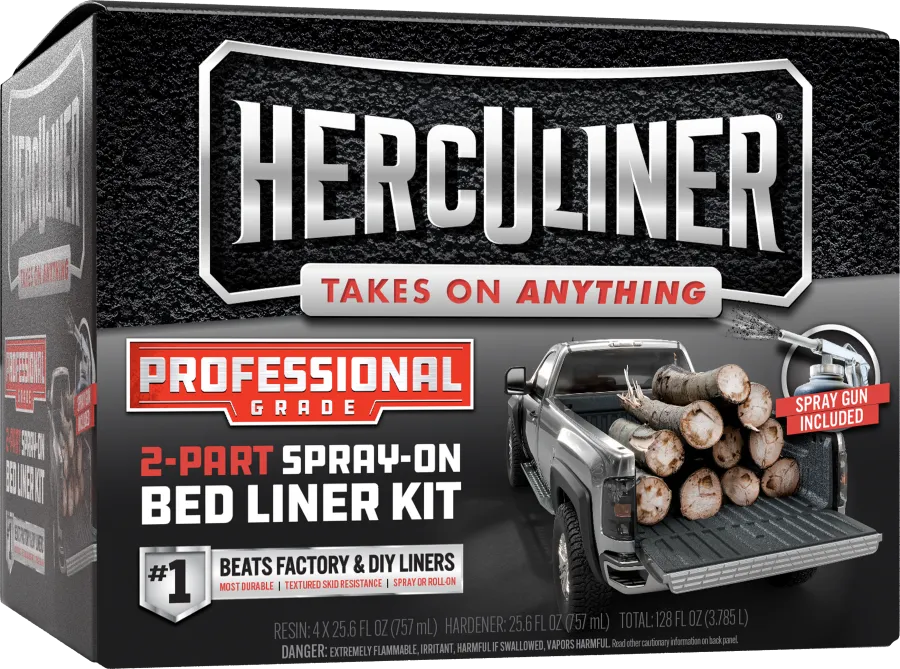 HERCULINER PROFESSIONAL GRADE TRUCK BED LINER KIT - W/ SPRAY GUN AND ROLLERS
Herculiner Professional Grade Spray On Bed Liner Kit is a two-component bed liner coating that outperforms DIY and professionally installed coatings in durability.

Features
Highest scratch, impact, chemical and water resistance along with top adhesion performance
Textured skid-resistant finish
Complete coverage for an 8-foot bed in only a single spray on coat
Can be sprayed or rolled on; spray gun and rollers included
Kit includes 4 bottles of Professional Grade Bed Liner, 1 bottle of hardener, 1 spray gun, 2 rollers
Kit Contents
4 bottles of Heavy Duty Bed Liner

1 bottle of Hardener

1 spray gun

2 rollers

VOC compliant in all 50 States!

Covers an 8-foot truck bed in just one coat

Specs
J-B Weld Part Number: HCL2K8
Color: Black
UPS Code: 0 43425 80005 3
Product Videos
Check out Herculiner Professional Grade Bed Liner Kit versus the competition
Check out how to apply Herculiner Professional Grade Bed Liner Kit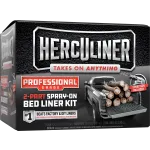 Professional Grade

Frequently Asked Questions
What if the spray gun appears to be clogged or won't spray?

Try the following trouble-shooting options:

Slightly unscrew the gun from the bottle (like a quarter or half turn, but do not detach) and try again.
Check your PSI rating on your air compressor to make sure it is in range.

Make sure there is no air leaking from your gun/hose connections.

Cover the air intake hole with your finger on the gun and shake the bottle to mix and try again.

Remove the gun from bottle, shoot acetone through the gun to clean it out. Then re-attach to bottle and try again.

How do I properly mix the material?

Turn the resin bottle upside down and shake for about 30 seconds to loosen the texture inside the bottle.
Measure 6.5 fl oz of hardener using the included measuring cup.

Pour the hardener into the resin bottle, using the included stick to scrape the sides of the measuring cup.

Re-cap the resin bottle, turn upside down and shake vigorously for 1-2 minutes.

Your mixed bottle is now ready for application.

What is the difference between Herculiner Professional Grade and Herculiner Original Roll-On?

While Herculiner Original Roll-On has been providing dependable bed liner protection for many years, Herculiner Professional Grade has durability that even outperforms professionally installed bed liners, has improved fade resistance, and can be sprayed or rolled-on without any adjustment to product viscosity.

What is the temperature range for application?

Between 65-90 degrees Fahrenheit; anything outside of this will affect cure time greatly

What is the coverage?

Around 20 sq ft per bottle

Do I need to apply primer to bare metal?

No, as long as the surface has been cleaned and scuffed.